The good thing about buying replacement windows is that the benefits you will get from your new windows will get rid of any doubts you felt about replacing them.
There are so many great options to consider and choose from when looking to purchase replacement windows. You can customize the perfect window to fit the exact style and design that works best for your home.
On the other hand, when you have a lot of choices to think about and without proper knowledge, replacing your windows can seem like an big chore to take on.
In this article, you'll learn more about what styles of windows are available for your home, what materials are used in replacement windows, the features to look for, and window cost and installation to see what works the best for you and your home.
Types of  Replacement Windows
There are many different styles of replacement windows available. We'll go over each style below, what room they're most suited for and their benefits.
Double Hung Windows
The most common and popular style of window is the double hung window. The double hung window has two sashes, both of which are operable and can be tilted. Homeowners like the easy tilting sashes since they make cleaning both the inside and outside glass easy without having to use a ladder for tough to reach 2nd or 3rd floor exterior windows.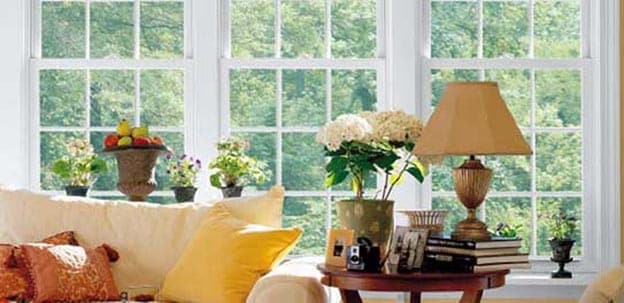 Since double hung windows have two operable sashes, this can provide an excellent source of air ventilation. The sash can be lowered from the top, raised from the bottom, or both sashes can be left open for additional air circulation throughout the home.
Double hung windows have the option of one or two interior locks depending on the size and brand of the window. They also come with staggered ventilation latches that limit how far you can raise or lower the top or bottom sash for security.
These features make the double hung window the perfect choice for any room in your home.
Sliding Windows
Custom Sliding windows with glass panes are another popular choice for homeowners since they are practical with a modern design. They can be constructed as either a 2-section slider or as a 3-section slider for wider window openings.
Much like the double hung window, the sashes on sliding windows can be removed easily for quick cleaning. In addition to this, a sliding window has few operating parts, meaning there is less to maintain compared to other window styles.
Sliding windows are very functional and easy to open to let fresh air into your home. Plus, you can easily put screens in a sliding window to keep bugs out while still letting fresh air in.
Compared to more traditional windows like double hung windows, sliding windows will give your home a modern look.
Casement Windows
Casement steel windows are hinged at the side and come with an easy to operate single hand crank, which is painless to use even in the most difficult to get to spaces such as over your kitchen sink. You can turn the crank counterclockwise to open your casement window or clockwise to close it.
The smooth design of the casement handle is aligned with the window frame so it won't disturb blinds or any other window treatments.
The casement window has the ability to be cranked fully open, providing air ventilation and natural light for your room.
Casement windows are found in kitchens over countertops, in difficult to reach spaces, or used in combination with other windows.
Picture Windows
Picture windows have fixed panes of glass that do not allow you to open them, but they still offer great energy efficiency. Many homeowners combine picture windows with other operable windows that can be opened.
The picture window offers the most visibility in a window. They are commonly used to make living rooms and family rooms seem larger by allowing a lot of natural light to enter your home.
Whether you are looking for more natural light or a large unobstructed view, the picture window is a great addition for many different rooms in your home.
Bow and Bay Windows
A bow window projects past the exterior of your home. They consist of three, four, or five equally sized windows that extend across the window opening. These individual windows are usually casement windows or fixed picture windows.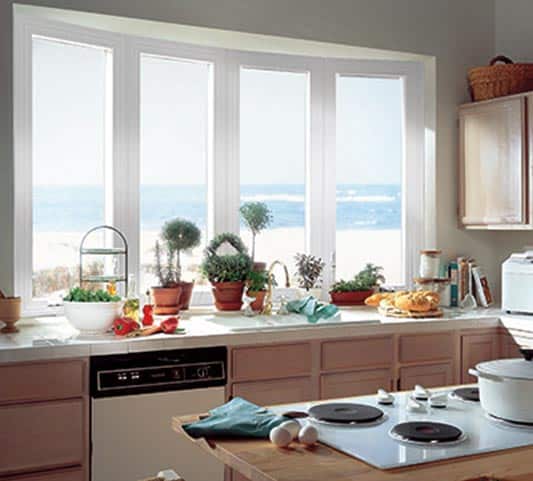 The multiple window design of a bow window allows a great deal of natural light to enter from different angles. This makes the room appear more open, brighter, and overall more comfortable.
Bay windows are similar to bow windows and are a type of projection window as well. They offer many of the same benefits.
The difference is that bay windows are made up of a series of three windows, consisting of one large picture window with a window on each side. These side windows can be venting windows like casement windows and double hung windows, or fixed picture windows like the center one.
Since bow and bay windows add a lot of beauty to the front of a home, this window is commonly used in a room with a view facing the front yard.
Garden Windows
Much like the bow and bay window, a garden window extends beyond the normal window opening past the exterior wall of your home.
Garden windows have two fixed windows on each side and a venting awning window in the center. An awning window swings open outward and is operated by a simple hand crank.
These windows also come with an insulated seat board that provides an excellent living space for your plants or a small herb garden.
This uniquely shaped window allows you to add more light and more space to any room in your home, and allows for air flow with a venting awning window.
Homeowners prefer garden windows above kitchen sinks because the awning window is easily accessible and the window offers more dimension and depth to the room.
Architectural Windows
Architectural windows are a popular choice with homeowners who are looking to accent any room. Specialty windows like these are often combined in a pattern to enhance the design in bedrooms, dens, entryways or hallways.
Architectural windows come in a variety of shapes and sizes including circles, half circles, hexagons, trapezoids and triangles to name a few.
You can also add a personal touch with enhanced glass options like frosted or decorative glass.
If you are looking to add a unique and distinctive look to your home, an architectural window is perfect as its design adds drama and depth.
Basement Windows
Basement windows, also known as hopper windows, have a single sash which is hinged at the bottom and tilts open inward. The entire basement window sash easily tilts in for quick cleaning of both the interior and exterior of the window.
Since basement windows tilt inward, it makes it harder for any intruders to enter your home.
Hopper windows can brighten up your basement while providing security and improved air flow, making the space more safe and comfortable.
Materials Used in Replacement Windows
Vinyl
Vinyl is becoming the most popular material used in replacement windows and many homeowners are choosing vinyl over other window materials like wood. More vinyl windows are sold compared to all other types of window materials making up 67% of the replacement window market.
The reason vinyl windows are a popular choice is because they are a wallet-friendly window option that offers durability, dependability, and energy efficiency. Vinyl windows are also nearly maintenance-free, meaning the vinyl frame can resist scratches, warping and rotting.
Another positive is that vinyl is a good insulator that makes for a great window material. Depending on the brand of window, other features like argon gas filled panes can be added to the frame to improve on energy efficiency as well.
It is recommended not to paint or stain vinyl windows because the paint won't stick well and may affect the amount of insulation the frame offers. Because of this, they come manufactured in the desired finish or color of your choosing when ordering new windows.
Vinyl windows are customizable. They can be shaped to fit any window opening and come in a variety of color options for both the outside and inside frame. Homeowners can choose the common white on white combination or a faux wood option for the interior for a more dramatic look.
Wood
Wood is another popular choice many homeowners go with since it offers many benefits like energy efficiency and beauty.
Wood has great insulating capabilities and nowadays there are techniques and materials used to make drafty wood windows a thing of the past.
Unlike vinyl, a wooden frame can be painted and stained, and can be worked to fit the look of any home. Wood is a top choice for homeowners that want a classical look that will provide their home with both beauty and warmth.
The problem with wood is that compared to other choices all wood windows are not as durable. They are vulnerable to warping, rotting and insect infestation.
In addition to this, wood doesn't hold up well in harsh weather conditions.  You'll need to inspect and maintain your wood windows every year for wear and corrosion and be prepared to repair any issues that you may find.
As a result of all of the maintenance, all wood windows do end up costing more than the other options.
Fiberglass
Fiberglass isn't a common material choice for replacement windows and is often overlooked, but it does offer a variety of great benefits.
Much like vinyl windows, fiberglass windows are durable and relatively maintenance-free. The fiberglass frames won't swell, warp or rot. However, the material does have added benefits over vinyl.
Fiberglass is a tougher and stronger material so it can withstand more wear and tear. The window frames can also be painted and can come in a wood interior and exterior finish that looks almost identical to real wood.
Though fiberglass windows are less expensive than all wood windows, they are pricier than vinyl windows.
Aluminum
Aluminum windows are the least popular material choice for replacement windows but still have benefits other materials don't offer.
Aluminum is an extremely strong material. Aluminum windows can be composed of  a relatively thin frame without compromising durability. This also allows more space for glass that way homeowners can enjoy a larger uninterrupted view to the outdoors.
Aluminum windows also can come in a large variety of colors that are tough and long-lasting.
However, you can't avoid the negatives that come with aluminum windows. Since metal is a poor insulator, it won't keep the heat and cold out of your home. The material easily expands and contracts when faced with different weather extremes.
As a result of this, homeowners go for a modified version of the aluminum window which is a window with a wood core clad in aluminum. Although aluminum clad windows do offer better insulating capabilities, the other window material options are still the better choice.
Replacement Window Energy Efficiency
Since most window materials are insulators, they will already be energy efficiency. However, there are features that can be added to increase your window's energy efficiency. As a result of this, you will use less energy and see a reduction in energy bills.
Low-E Glass
Low-emissive glass, which is also known as Low-E, is window glass that has been treated with an invisible metallic oxide coating. This creates a surface that reflects heat, while still allowing natural light to filter in. The use of Low-E glass results in a reduction of energy use and an overall increase in the comfort of your home all year round.
Argon Gas
Argon gas is a clear, odorless, non-toxic gas that is filled in between the window panes to provide energy efficiency. Used to minimize heat exchange through your windows, argon gas prevents unwelcomed heat from entering your home while the warmth you want stays put. Therefore, regardless of the time of year, the comfort of your home is not compromised.
Caulking
Caulk is a flexible material used to seal air leaks through cracks or gaps in the frame. Caulking is an important part of keeping your windows energy efficient in the long term. If these cracks and openings are not properly caulked, cool air escapes during hot months and warm air escapes during cold months.
As a result of this, homeowners increase the home's heating and cooling usage and that increases the home's energy costs.
Weather Stripping
Weather stripping is very similar to caulking. However, weather stripping is used on operable parts of your window like the sash whereas caulking is for stationary parts like the frame.
Weather stripping comes in various forms. Most is made of sponge, foam, felt, vinyl or a combination of these materials.
Regardless of the material, weather stripping provides all of the same benefits caulking does. It prevents air from coming in around windows and eliminates gaps in your windows when they are closed. This in return keeps cold air out in the cold months and keeps warm air out in the hot months.
Cost of Replacement Windows
The cost of replacement windows varies depending on the material, style, and features of the window you are buying. As mentioned previously, vinyl windows are the most inexpensive, with fiberglass and aluminum windows offering a middle of the road price, and all wood windows being the most expensive.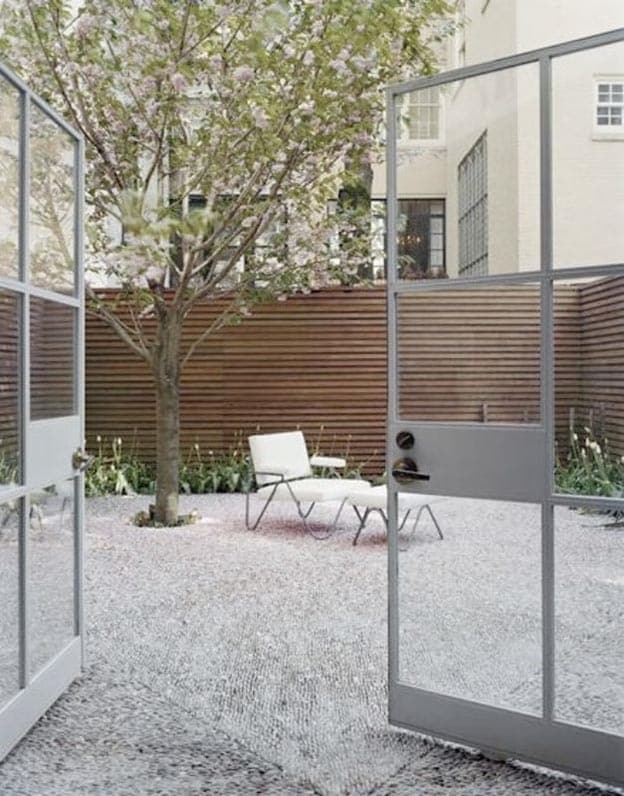 When looking at window styles, the amount of material used to construct the window affects the price greatly. If your home has a large window opening, you should expect to pay a higher cost.  The amount of glass used affects pricing as well. The more glass material used in a window opening, the more expensive that window will be.
When it comes to adding on additional features to your replacement window like Low-E treated and Argon gas filled glass, the cost will also go up. Any addition you make to the window will drive the price up.
When considering the price of replacement windows, homeowners should also be aware of labor costs. Some people may choose to install their own windows, which can cut down on costs. However, professionally installed windows will come with a price attached to labor provided.
Window Installation
Installing Replacement Windows By Yourself
The amount of skill needed to replace your own windows can vary. This depends of the window replacement project. If you are installing full-frame replacement windows then the installation will be more complicated than installing an insert replacement window. Full-frame replacement means completely tearing out the current window and replacing it, while an insert replacement window lets you use the existing window frame.
In addition to skill, there are also specific tools needed to install windows yourself.
Safety Glasses
Tape Measure
Screwdriver
Level
Hammer
Caulk Gun
Power Drill
Putty and utility knife
Pry Bar
Finally, make sure you set enough time aside for the window installation. To replace a full-frame window it can take anywhere from 4-6 hours per window on the ground level. It takes even longer to install 2nd floor windows since you'll be needing a ladder.
Professional Replacement Window Installation
While it may seem tempting to buy windows and install windows yourself, it is not recommended for most people for many different reasons.
Most times you will not be offered a warranty when installing your own windows. This is because if something goes wrong with the window down the road, the problem could be in how the window was installed. Due to this, many brands do not offer a labor warranty.
Professional window installers are trained to spot issues in your home's drywall or foundation. They can let you know whether you need to have other work done in your home before your window installation. Things that are easily missed with the naked eye can go unnoticed and cause you problems in the long term.
Additionally, lack of experience can put you at risk of damaging your new windows, your home, and it can even put you in danger. This is especially the case when trying to install hard to reach 2nd or 3rd story windows.
Therefore, new window installation is best left to professional window installers. This is due to the fact that these individuals have the skill, knowledge and tools to properly install your replacement windows. When properly installed, your new windows are going to provide you with all of the benefits you were looking for.
Choosing the Best Window Replacement Company
Choosing the right company for your window project is just as important as choosing the windows. There are a few things to think about when looking at different replacement window companies.
Is the Company Insured and Licensed?
Any installers that enter your home should be insured and licensed. Contractors who don't carry insurance will likely be cheaper to hire since they don't have large insurance premiums to pay. It is up to you to decide if it is worth the risk to hire an uninsured contractor.
How Long Has the Company Been in Business?
Typically, the longer the company has been in business, the more credible they are. On the other hand, everybody has to start somewhere. References are helpful to double check any company and especially important when considering to work with a newer business.
Do They Offer a Warranty?
Make sure the company that replaces your windows offers a warranty on the product and the labor. That way you will be covered if anything happens to the windows down the road. Depending on the brand and company, warranties will vary and it is important to fully understand the offered warranty before buying the windows.
As you can see, each type of replacement window has pros and cons, so choosing the best one for home means taking a look at a lot of different things. You have to weigh what you are looking for and compare it to the window types available. No matter what you go with, replacing your windows is an investment that pays off immediately and in the long term if you decide to sell your house. As mentioned, you will use less energy and as a result of that you will see lower and lower energy bills.  Get a free consultation from a window and door remodeling expert, call today any of our Cantera Doors showrooms near you.